When it comes to kitchen design, all the details matter—and while cabinet hardware may be considered a minor design element, it can have a big impact on the overall look and feel of your kitchen.
Cabinet hardware comes in different styles, sizes, and shapes, ranging from traditional to modern design. With so many options to choose from, it can be challenging to find the right one that not only improves the functionality of your kitchen, but also enhances its aesthetic appeal.
We've put together this comprehensive and easy to read guide, to help simplify the confusing process of choosing the perfect hardware for your kitchen cabinets.
How To Choose Kitchen Cabinet Hardware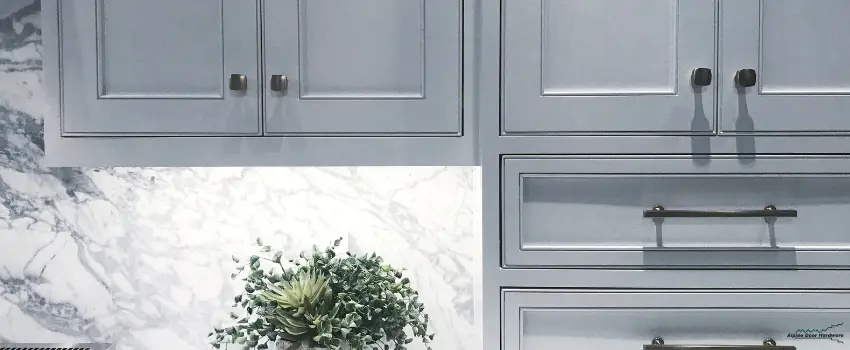 Before you start shopping for hardware, it's important to consider the type and style of hardware you are looking for. This will help ensure you choose hardware that complements the overall look and feel of your kitchen.
Here are some factors to keep in mind when choosing your kitchen cabinets:
1. Type of Cabinet
The type of kitchen cabinets you have determines what hardware will best compliment your kitchen design. Framed cabinets are the most common and can accommodate a wide range of hardware options. Frameless cabinets, on the other hand, require hardware that can be mounted directly to the inside of the cabinet door. Inset cabinets require special hinges that are concealed within the cabinet itself.
2. Style of Cabinet
The style of your cabinets will also affect the type of hardware you choose. Traditional cabinets may look best with classic hardware styles such as knobs or bin pulls.
Bar pulls or finger pulls are perfect for those looking for modern kitchen hardware that have simple and sleep design. Shaker-style cabinets, with their clean lines and simple design, can be paired with a wide range of hardware styles.
3. Kitchen Decor
Your cabinets should complement the existing decor in your kitchen. This will mean choosing hardware that complements your counter tops, back splash, or flooring. If you have stainless steel appliances, you may want to consider stainless steel hardware to create a cohesive look.
4. Functionality
When selecting hardware for your kitchen, it's important to consider how you use your kitchen. If you frequently cook, you may want to consider hardware that's easy to grip and pull, such as larger knobs or handles. Similarly, if you have children, you may want to choose hardware that's easy for them to use and not easily breakable.
5. Hardware Finish
Cabinet hardware comes in a variety of finishes, and choosing one can greatly impact the overall look of your kitchen. For instance, brass hardware can add warmth and a touch of elegance to a traditional kitchen, while black hardware can create a sleek, modern look.
6. Price of Hardware
When it comes to selecting hardware, it's crucial to take your budget into account and choose options that are within your price range. However, it's equally important to consider the quality of the product and ensure that it justifies the price you pay. High-quality cabinet hardware may cost more, but it's well worth it in the long run, because it's built to last, and offers better functionality than cheaper options.
7. Installation
Installing hardware can vary in difficulty. Some modern kitchen hardware may require additional drilling or modifications to your cabinets, while others are easy to install using simple screws. Consider hiring a professional to ensure that the installation is done correctly and without any damage to your cabinets.
Types of Kitchen Hardware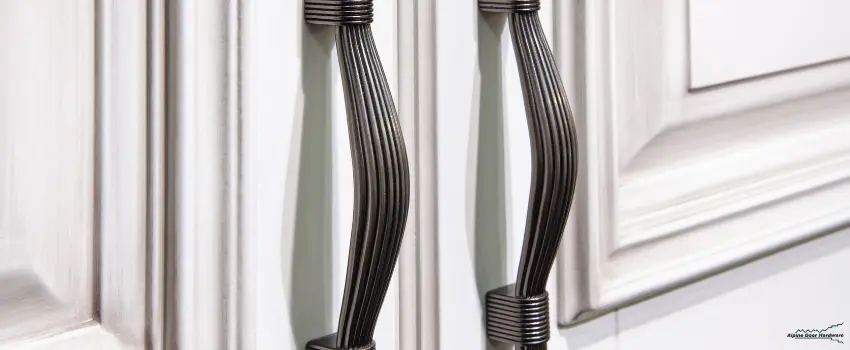 There are many different cabinet hardware styles to choose from, each with its own benefits and drawbacks. Here are some popular styles for you to consider:
1. Knobs
Knobs are a classic and versatile option, perfect for traditional kitchens. They come in a variety of shapes and sizes, from round to square and beyond, and can be made from different materials such as metal, glass, or even crystal. While knobs are easy to install and maintain, they may not be the best option if you're looking for a more secure grip.
2. Pulls
Modern kitchen cabinet hardware like pulls come in various lengths and widths, allowing you to customize them to your cabinet size. Pulls are easy to grip but may require more effort to install than knobs.
3. Bar pulls
Bar pulls have a long, thin design, creating a clean and minimalistic look. They're perfect for contemporary and modern kitchens and work well with slab cabinets. As with other pull hardware, bar pulls are also easy to grip and can be more challenging to install than other hardware styles.
4. Handles
Handles are similar to pulls but feature a curved design that wraps around the hand, making them a comfortable option for large cabinets or those with heavy doors. Handles come in various lengths and widths, making it easy to customize to your cabinet size.
Different Hardware Materials for Kitchen Cabinets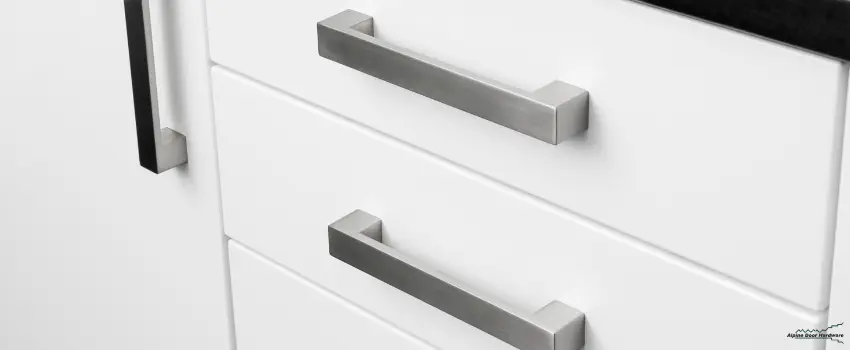 The material you choose for your kitchen cabinet hardware will also play a role in its overall look and durability. Here are some common materials used for hardware:
Brass – If you're looking to create a traditional or vintage-inspired kitchen, brass hardware might be the perfect fit. It is durable and resistant to corrosion, making it a good choice for humid environments.
Stainless Steel – Stainless steel hardware is a modern and sleek option that works well with contemporary kitchens. It may be prone to fingerprints and smudges, but it is easy to clean and maintain.
Bronze – For a versatile option that complements a wide range of kitchen styles, consider bronze hardware. This material has a warm and rich tone that can add character and charm to your kitchen.
Key Takeaway
Kitchen cabinet hardware does more than just provide function; it also creates a cohesive look throughout your kitchen and ties in everything from the paint color to the sink basin. After deciding on your new cabinet style, colors, and materials, it's finally time to add those finishing touches.
To make the selection process easier, consider the type and style of your kitchen cabinets, as well as the overall decor of your kitchen. By keeping these factors in mind, you can choose the perfect kitchen cabinet hardware that you'll cherish for years to come.
Complete the look of your space with top-quality products from Alpine Door Hardware.
If you want to add the perfect finishing touches to your kitchen, Alpine Door Hardware offers a wide selection of high-quality bath, barn door, cabinet, and door hardware in Park City, UT.
Whether you're looking for sleek and modern designs or more traditional options, we have the perfect piece to complement your kitchen cabinets and enhance the overall aesthetics of your kitchen. Partner with us and let us take your kitchen design to the next level.