People are in a familiar environment at home, not only because they are with their family but because they know that their lock and security systems are working and keeping them safe and secure. However, in a hotel room, they are in unfamiliar surroundings where they can easily become vulnerable, especially if they find the hotel door lock system is not entirely fool-proof.
Because of their crucial role in safety and security, hotel door locks are considered a vital component of any hotel room. However, when they need to be modified or upgraded, several key factors must be considered, and these factors are detailed here.
The Different Types of Hotel Door Locks
A door lock system can vary from one hotel to another. In general, however, the following locks are commonly used:
1. Traditional Key Locks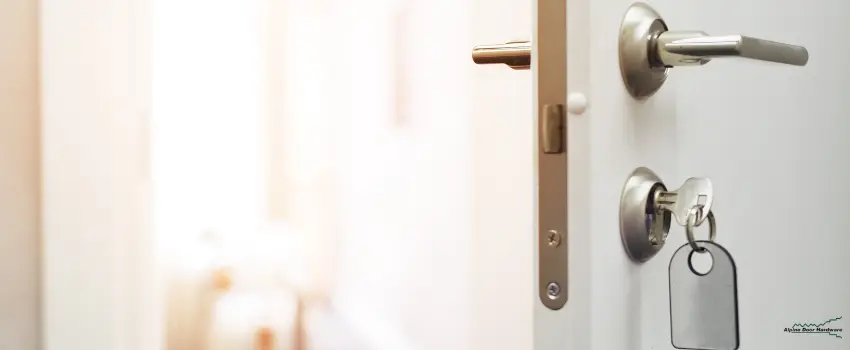 Traditional key locks are still the most common type of locking system found in many hotels. The traditional key lock system consists of a lock and a matching key. The key is then inserted into the lock, and the lock is opened. This type of security system is relatively inexpensive and easy to maintain. Since it involves using a physical key, hotel owners must have spare copies readily at hand since guests often lose the keys assigned to them.
2. Electronic Door Locks
Electronic door locks involve using a numeric code or a magnetic stripe card to unlock a hotel room's door. It provides better security than the traditional key lock, as the code or the card can be easily changed. Electronic locks can also be integrated with the hotel's property management system, allowing the staff to monitor and control access to individual rooms.
However, while electronic locks are more advanced when it comes to the safety of hotel guests, they can still be manipulated if they fall into the hands of thieves. It is also possible to hack electronic door locks if an individual has the necessary skills and equipment.
3. Smart Locks
Smart locks are the most advanced type of hotel door locks. They use Bluetooth, Wi-Fi, or NFC technology to communicate with a guest's smartphone or smartwatch, allowing them to unlock the door without a physical key or card. Smart locks are highly secured and can be monitored and managed remotely. Integrating smart locks with other hotel systems, such as those used in room service and housekeeping, is also possible.
7 Factors To Consider When Changing Hotel Door Locks
Careful planning is required if hotel owners plan to change their lock system. Below are some of the factors that should be considered.
1. Security Needs
Security needs are the first factor to consider when changing a door lock system of any hotel. If introducing new door locks, these should be more secure and reliable than the old ones. Ideally, the new system should include high-security keys, anti-pick locks, or electronic keypads.
2. Budget Allocation
Introducing a new hotel security system is usually a large project requiring an ample budget. The expenses involved in looking for new locks, the number of hotel doors to be changed, and the labor costs must all be included in the calculations. Thus, the total costs must be weighed against the benefits to determine the best lock system for a hotel.
3. Design Compatibility
When choosing new door locks, there's a need to ensure that these are compatible with the hotel's existing door and frame designs. This is important when trying to save on costs and time. Any lock installation project will require modifications, but these modifications can be limited if you choose the right door locks to start off with.
4. Maintenance Requirements
If your hotel door locks require extensive repairs, this can prove to be significantly expensive as repairing numerous locks is time-consuming and requires the services of experts. For this reason, if your hotel locking system is damaged, it is often a better option to replace it with a new system rather than try to repair it.
5. Ease of Use
While hotel security should be highly advanced to provide complete safety for everyone, it should also be easy to use for the convenience of guests and staff. Guests should be able to open and close the doors of their hotel rooms, and door access control systems should be something the hotel staff can monitor and manage easily.
6. Aesthetic Appeal
Aesthetic appeal plays a crucial role in how hotels attract customers. Suppose there's a significant change in the security system. In that case, this should blend perfectly with the hotel's overall aesthetics to ensure that the locks do not detract from the hotel's appearance or the guest's experience.
7. Regulatory Compliance
Another important factor to consider when installing new hotel door locks is compliance with existing laws and regulations. This includes compliance with local fire code provisions, accessibility guidelines, and other requirements.
Key Takeaway
When it comes to hotel security, the locks installed on every door, especially those found in front, are especially crucial. They are the primary means through which guests and staff are kept safe from external dangers. If they continue to be effective from a security perspective, there should be need to make any significant change.
Nevertheless, in the present times, where security has become a major concern for many people, it's easy to understand why there's a need for some hotels to upgrade their security systems. Doing so is often expensive, but in the end, it means a more secure place for people who have to stay away from home for one reason or another temporarily.
Get professional door and lock installation services from Alpine Door Hardware.
If you're involved in the hotel industry, the safety of your guests is always of utmost importance. Take action to ensure the safety of your guests by getting updated and reliable door security lock systems for your business, courtesy of Alpine Door Hardware.
Our Park City door hardware services are so extensive that you'll find any suitable for your current security requirements. Contact us today to discuss how you can provide the best security services for your present and future guests.