Top-Quality Door Hardware
Add an extra layer of security to your property by investing in top-notch door hardware.
Door hardware, such as doorknobs, levers, deadbolts, locks, and handle sets, plays a vital role in securing your property. They serve as one of your property's first layers of defense against intruders. For this reason, it is essential that you invest in high-quality door hardware from trusted manufacturers.
The good thing is that you have tons of options nowadays. There are lots of manufacturers that provide excellent door hardware that can enhance both the aesthetics and security of your property. With high-quality products, you have the peace of mind that your property is protected all the time.
At Alpine Door Hardware, we provide a broad array of door hardware for you to choose from. We source products from various trusted brands, so you have the assurance that we only offer you door hardware designed and built to the highest quality. Through our products, you can rely on us to help you achieve optimal security on your property.
Our team of experts also provides door hardware services. Our professional installation and repair services will ensure that your doorknobs, locks, and latches remain in good condition over time. Call us for all your door hardware service needs. 
Factors to Consider When Choosing Door Hardware
At Alpine Door Hardware, we can help you choose the most suitable door hardware for your property. Here are some essential factors to consider: 
Similar to buying other products, one of the first things to look for when choosing door hardware is quality. You want to make sure that they are built using top-of-the-line materials.
At Alpine Door Hardware, we can help you choose door hardware with robust construction. We provide products that offer service assurance for a long period of time. Guaranteed. 
When it comes to the style and finish of your door hardware, you should choose products that coordinate with the other hardware finishes and colors on your property. Fortunately, there are tons of options available for you.
For the style, you can choose from modern, classic, antique, and vintage. As for the finish, some of your best choices include graphite nickel, brass nickel, matte black, satin chrome, vintage pewter, and rustic brass. 
There's a significant difference in the extent of usage of doors. For instance, door use in residential spaces is about 20 cycles per day. On the other hand, it goes up to a hundred or more cycles in commercial spaces.
When choosing door hardware for your property, whether residential or commercial, it's essential to consider the level of use. It is important to consider the service life of each product before you decide to buy and use them. 
Indoor and Outdoor Conditions
Keeping both the indoor and outdoor conditions in mind when choosing door hardware should be prioritized. For instance, door hardware can easily corrode when used in coastal areas. Another example is that dusty environments can cause dirt to load up on door hardware and eventually affect the way they function. By knowing the conditions, you can choose more suitable products and provide them with better maintenance.
Why Choose Alpine Door Hardware
Alpine Door Hardware has been in the industry since 2013. Having been here for that long, we have gained extensive experience in choosing door hardware that suits residential and commercial spaces.
Our team ensures that we provide only the best products for our customers. We partner with some of the most trusted manufacturers in the industry, so we guarantee that the door hardware we provide is of the highest quality.
We utilize state-of-the-art equipment when providing installation and repair services. Our team of experts also undergoes continuous, relevant training to uphold the quality of our services.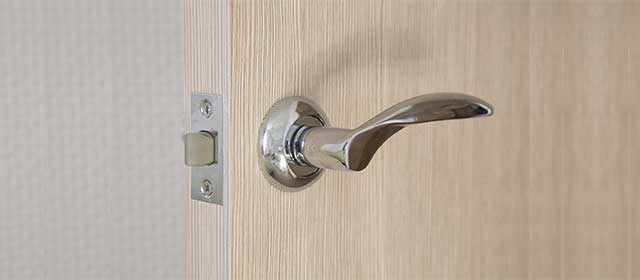 We provide door hardware either in-store or by order. Here are some of the products we offer: 
Please take note that the warranty of these products depends on the manufacturer's offer.
Frequently Asked Questions About Our Door Hardware Services
For all your door hardware needs, look no further than Alpine Door Hardware.
If you have inquiries regarding our products or services, don't hesitate to give us a call. We will be more than happy to assist you. Contact us today!