Are you ready to give your bathroom the makeover it deserves? Whether you're starting a full renovation or just looking to add some new bathroom accessories, it can be overwhelming to know where to start. With so many options available, it's easy to get lost in a sea of products and make choices that don't align with your aesthetic or functional goals.
However, don't worry. We're here to help! Our guide on choosing bathroom accessories will give you the tools you need to make informed decisions and create a beautiful and functional space. From the latest trends to timeless classics, we'll cover all the essential items you need to elevate your bathroom. So, whether you're looking to create a spa-like retreat or a modern and sleek space, our guide will help you achieve the bathroom of your dreams.
Reasons To Invest in Quality Bathroom Accessories
Investing in high-quality bathroom hardware may seem unnecessary, but it's essential to consider the long-term benefits of doing so. From saving money to creating a more enjoyable and safe environment, here are five reasons you should prioritize quality bathroom accessories.
1. It saves you money eventually.
Investing in the latest bathroom technology, such as low-flow toilet suites and sensor-triggered faucets, can make your home more eco-friendly and efficient, ultimately saving you money on your household bills.
2. It lasts longer.
Choosing low-quality bathroom accessories means constantly replacing and repairing them. Investing in high-quality materials ensures your bathroom fittings will last longer and require less maintenance.
3. It creates a more enjoyable environment.
A bathroom with modern and functioning accessories is more relaxing and enjoyable to use, and it can also increase your bathroom's storage and functionality.
4. It increases your home's value.
A poorly maintained bathroom can be a deal breaker for potential buyers. Upgrading to high-quality bathroom fixtures can increase your home's value and make it more attractive to buyers.
5. It prioritizes safety.
High-quality bathrooms also create a safer environment. Poorly designed bathrooms can lead to mold, leaks, and blocked drains, putting you and your family at risk. Consider adding safety features such as shower grab bars and anti-slip mats for protection.
List of Must-Have Bathroom Accessories
Sink and Faucet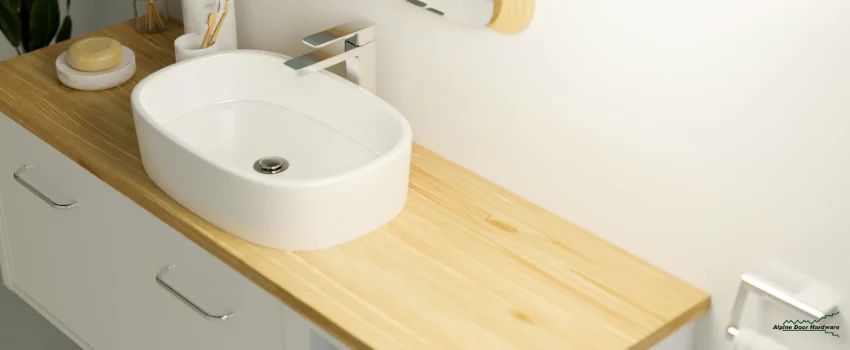 The sink and faucet combination is a crucial element in any bathroom. Not only does it serve a practical purpose, but it also adds a sense of elegance and style to the space. With a wide range of faucet types to choose from, such as the single hole, center-set, widespread, vessel sink, and wall-mounted, choosing bathroom fixtures that can complement your sink and enhance the overall aesthetic of your bathroom can be overwhelming.
Shower Fixture
Upgrade your bathroom with modern shower fixtures that will give your space a new look. Incorporating modern lighting creates a cohesive ambiance, making it easy to select accessories that will enhance the bathroom's overall aesthetic.
Toothbrush Holder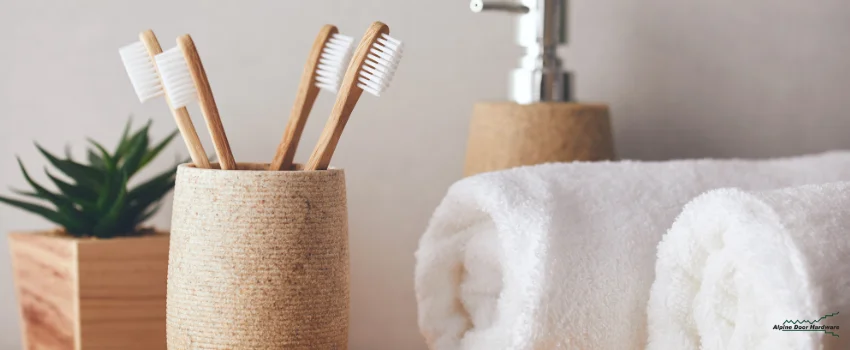 A toothbrush holder is a convenient bathroom accessory that helps to keep your bathroom organized and hygienic. These holders are typically cup-shaped and attached to the wall, providing a designated spot for storing toothbrushes. This not only keeps the vanity top clear of clutter but also ensures that toothbrushes are kept in a clean and hygienic environment.
Toilet Paper Holder
A toilet paper holder is a simple yet practical addition to any bathroom. It makes it easy to keep toilet paper within reach while using the toilet and keeps it off the floor. It is functional and promotes hygiene by avoiding picking up a roll of toilet paper that may have come into contact with germs and dust.
Bathroom Shelves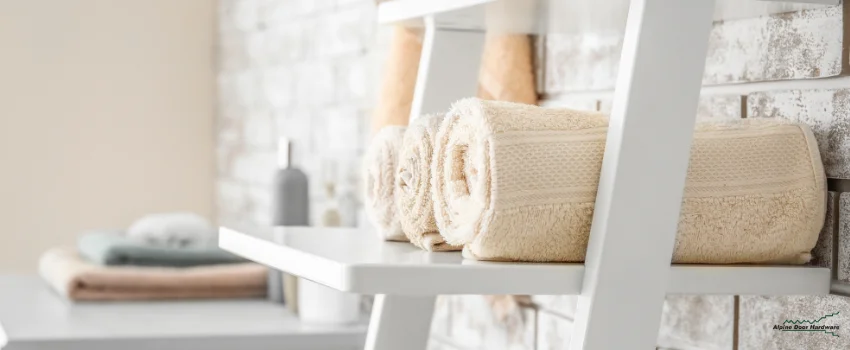 Lack of storage space is a common problem in many bathrooms. While vanities can store essential items, what about towels and shower products? Bathroom shelves offer an easy solution to this problem. There are different types of bathroom shelves available, including towel shelves, glass shelves, corner shelves, and double shelves.
Robe Hooks
Robe hooks are necessary for any bathroom, providing a spot to hang clothes or towels. They come in various materials and styles but are often made from durable steel.
Towel Bars
Towel bars play an essential role in keeping your bathroom organized. They should be placed in suitable locations, near the shower or bath and next to the sink area. They are available in various styles and designs, including single or double rails, to suit your preferences.
Tips for Selecting Bathroom Accessories
Here are some helpful tips to keep in mind when choosing accessories for your bathroom:
Define your needs – Before shopping, ensure you are clear about your requirements. Assess your bathroom to determine what you need to purchase and consider how you will use the accessories. Remember to buy essentials that you will use.
Set a budget – Plan a budget for your bathroom accessories and stick to it. This will help you avoid overspending.
Measure your space – Consider the space you have in your bathroom to ensure that the accessories you choose will fit. Functionality is just as important as aesthetics.
Focus on quality and value – High-quality products can be inexpensive. Look for options that offer both quality and value. Carefully read product details and consider price and functionality when buying the best bathroom sets.
Match the colors – Choose colors that match the overall design of your bathroom. Use the same color scheme throughout the room to ensure a cohesive look. If you choose white accessories, make sure they match the overall design.
Key Takeaway
In conclusion, selecting high-quality bathroom accessories is crucial for creating a functional, beautiful, and hygienic space. With a bit of research and careful planning, you can find bathroom accessories that look great and stand the test of time. Following the tips outlined in this guide, you can make informed decisions about what accessories to purchase and how to incorporate them into your bathroom design. Remember to consider your needs, budget, space, quality and value, and color scheme, and you will be well on your way to creating the bathroom of your dreams.
Elevate your bathroom's style and functionality with Alpine Door Hardware.
Ready to elevate your bathroom's style and functionality? Look no further than Alpine Door Hardware in Park City, UT, for high-quality bathroom accessories that will make all the difference. Browse our wide selection of products and speak with our experts to find the perfect solution for your bathroom renovation needs. Visit us today and give your bathroom the upgrade it deserves!