Door hardware may not get as much attention as they should when planning your interior design. But the truth is, your choice of door hardware will play a critical role in the aesthetics and security of your property, whether for a residential or commercial space.
However, picking the right hardware may not be as easy as you think, especially with so many available options today. And if you haven't done this before, you might end up opting for ones that may not work well with your interior design's theme, or worse, you might put your home or business security in jeopardy.
9 Key Factors To Consider When Selecting Door Hardware
To help you choose not just the best ones but the RIGHT ones, here are some of the factors to consider when choosing door hardware for your home or business.
1. Quality
When purchasing any item, quality is always the most crucial factor. The same principle applies to selecting door hardware. Purchase brands with a track record of quality, even if they cost a little more. Choosing a low-quality product may be a bit more pricey, but if you think about it, it could be more costly in the long run if you need constant maintenance and even replacements.
2. Material
The quality of the door hardware significantly depends on the materials used. Knobs, handles, and levers made of wood are an excellent option for aesthetically-minded homeowners. On the other hand, products made from steel are a good option if you're looking for something that will endure a good number of years. Although plastic ones exist, they shouldn't be used in heavy foot traffic locations, as they don't hold up as well as wood and metal. Remember that using high-quality materials is crucial for durability.
3. Finish and Style
Nowadays, homeowners may choose various interior door hardware finishes and styles to complement their home decor. With the vast array of selections in the market, finding the right one for your needs should be easy. Here are some finishes and styles to choose from:
Finish:
Brushed Nickel
Chrome Plated
Satin Chrome
Satin Brass
Graphite Nickel
Rustic Brass
Powder Coated
Vintage Pewter
Two-Tone: Brushed Nickel and Chrome Plated
 Style:
Square
Flat
Oval
Round
Modern
Antique
4. Function
There are various types of door hardware to consider, depending on the door's function, such as: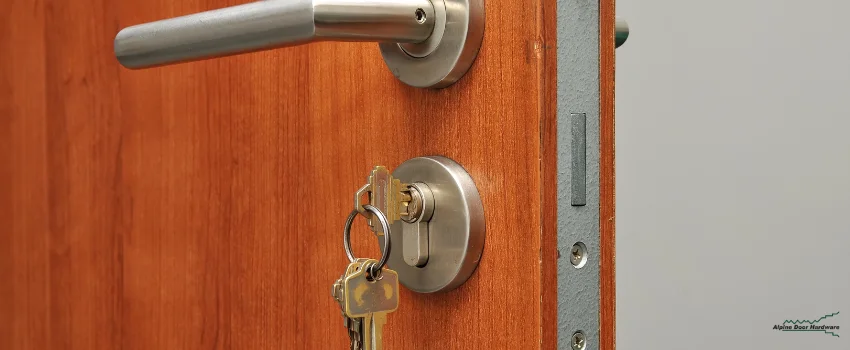 Keyed Lockset – can be locked from either side, although the exterior part requires a key to lock and unlock while the interior only has a turn or push button. The design offers added security from the outside while providing a quick and convenient exit.
Dummy Lockset – is a type of knob or lever that does not have a latch or lock function. It's merely used as a handle for the door to open, often on closets and cupboards.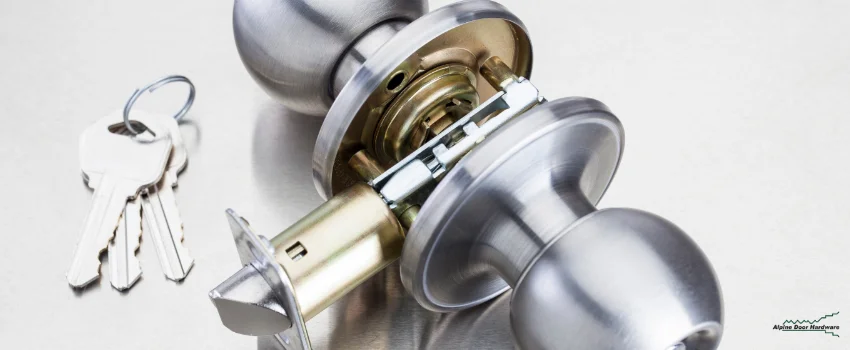 Privacy Lockset – is ideal for rooms or areas that require privacy, as the name suggests. It has an independent locking mechanism that can only be engaged from the inside, often used in changing rooms and restrooms.
Passage Lockset – is actually a misnomer because it does not have any locking mechanism at all. Instead, it is a handle that keeps the door latched on the frame. That's why it is only suited to areas that don't require privacy, including the pantry, closet, or supply room.
5. Environment
Another significant factor to consider is your living conditions. For instance, a matte finish may be preferable if you live near coastal areas because moisture and humidity can cause hardware to corrode quickly. In the same way, you should pick out hardware that won't attract and store dust if you happen to live in a very dusty environment. Moreover, use hardware that doesn't shrink or expand significantly for locations with extreme temperature changes.
6. Type of Door
While selecting door hardware, it would be best to think about the door's construction, design, size, material, and more. If not, it won't serve its intended purpose. For instance, if you have a door with a unique thickness, you'll need hardware designed explicitly for that measurement.
7. Frequency of Use
When selecting the best door hardware, it is essential to think about how often the doors will be used to achieve the best possible outcomes and facilitate smooth everyday operations. On average, doors in residences are used 20 times a day. However, in a commercial setting, a door may be used anywhere from 10 to 100 times in a single day. There is a significant gap between the two uses, so be careful in choosing door hardware. The same goes for the type of door you have–if you have a sliding door, you should pick a sliding door hardware specifically designed for such type of door.
8. Budget
If you want to be sure you're buying the appropriate doorknobs, you should develop a thorough checklist before going shopping. While it's essential to prioritize your wish list, you shouldn't go overboard with your spending. Sometimes going over budget is inevitable while searching for the best door hardware, but it doesn't mean you have to spend twice as much as you had intended.
9. Ease of Use
When people are looking for modern door hardware, they frequently end up with one that is difficult to operate. Despite their widespread use, not all contemporary doorknobs are user-friendly. It's vital to get the kind that everyone can use without trouble. It would help if you took extra care when selecting door hardware, so they don't cause any inconvenience. It's important to consider the door's intended function when making a doorknob choice since this will determine whether the hardware you've selected is suitable.
Key Takeaway
It is essential to consider the factors when selecting the right door hardware to ensure the highest level of safety, aesthetics, and convenience for your home or business. As discussed, it's not enough to have door hardware that makes a statement about how sophisticated your home or office is; it must also ensure security and convenience. Follow the tips and recommendations mentioned above if you need help choosing the right ones for your specific needs.
Protect your home or business with Alpine Door Hardware.
Selecting the door hardware for your home or business can be pretty challenging, but it can be easy with the correct information and high-quality products from Alpine Door Hardware, a Park City door hardware specialist. With our wide array of door hardware selections, you'll never have a hard time choosing the right ones based on your needs and preferences. Visit us now!