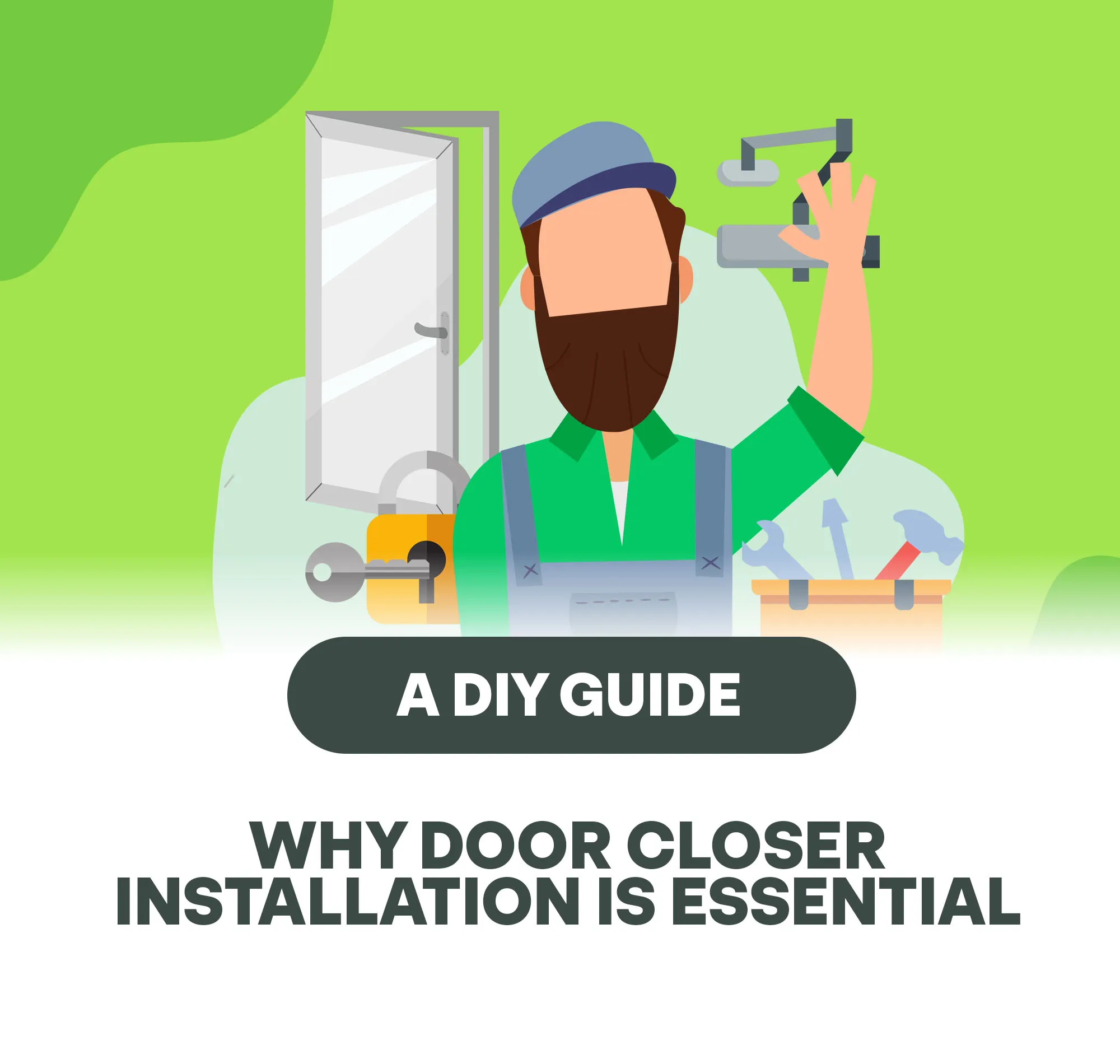 A door closer offers benefits beyond convenience. Because it shuts the door automatically after someone passes through it, the device ensures better security as it prevents access to unauthorized people, making it essential in both business and residential settings. It also offers safety as it prevents the door from swinging and banging on a windy day; or, in case of fire, it helps prevent the fire from spreading faster. Lastly, a door closer offers energy efficiency as it helps keep the heat or the cool air from escaping a heated or air-conditioned structure.
While door closer installation may sound like a job for a professional, it's a relatively simple task you can try as a DIY project. In this guide, we'll explain the different types of door closers and walk you through installing one. With our detailed instructions, installing a door closer will become a breeze.
What are door closers?
Door closers are devices designed to close a door automatically. They typically consist of a spring-loaded and adjustable mechanical arm, which slowly closes the door when it is opened to prevent it from slamming shut.
Although they are commonly used in commercial buildings and offices, there are also residential door closers you can install in your home.
Types of Door Closers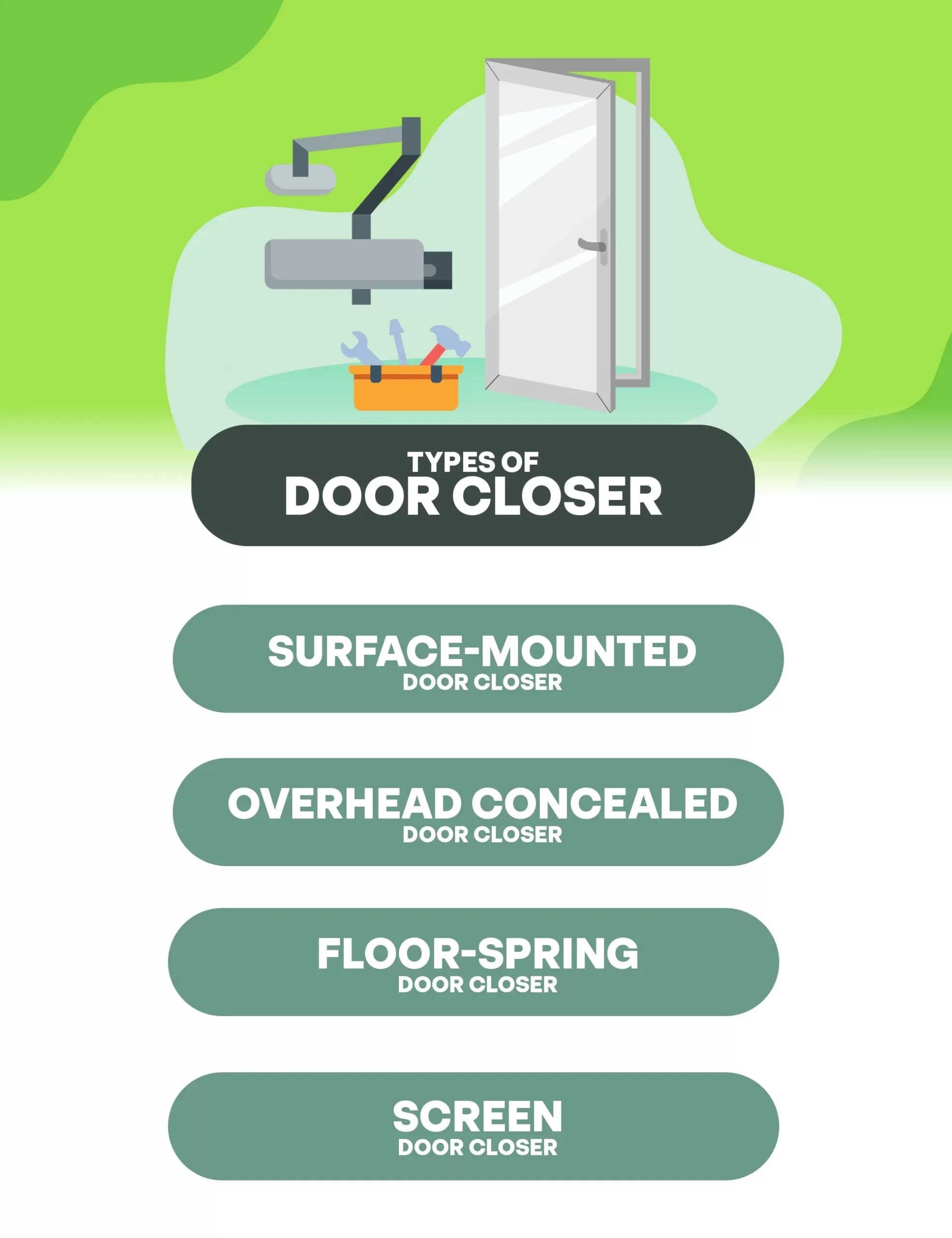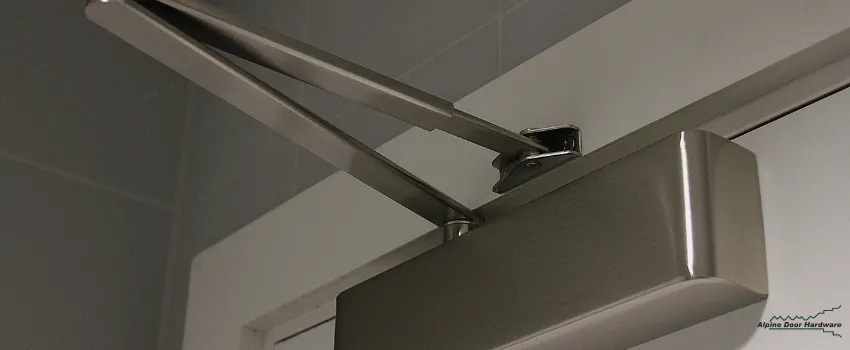 If you're in the market for a door closer, understanding the different types available will help you choose the right one. The following are the types and their unique features:
1. Surface-Mounted Door Closers
Surface-mounted door closers are the most common because they provide functions and options not seen in other door closer types. There are four available types, including:
The surface-mounted normal arm
The surface-mounted parallel arm
This type of door closer is often found on steel façade doors and is excellent for an opening with moderate foot traffic.
2. Overhead Concealed Door Closers
Use overhead concealed door closers in locations with moderate to heavy foot activity. They are inserted and hidden within the door and frame headers of storefronts. With narrow, medium, or broad stile doors, you can install overhead concealed closers in either a centered or offset arm position.
3. Floor-Spring Door Closers
Floor-mounted door closers are the most durable option and are necessary for heavy doors or areas with high traffic. These high-performance closers are easily adjusted and work well with tall, broad, heavily insulated, or thick glass façade doors.
4. Screen Door Closers
Screen door closers are another type of door closer specifically used on screen doors. They are typically installed on the top of the door frame and use a spring to close a screen door slowly, preventing it from slamming shut. Screen door closers are commonly used in residential settings to allow airflow while keeping insects out.
In addition, they are available in many colors and styles to match your screen door's design and complement your home's aesthetic.
Tools and Materials Required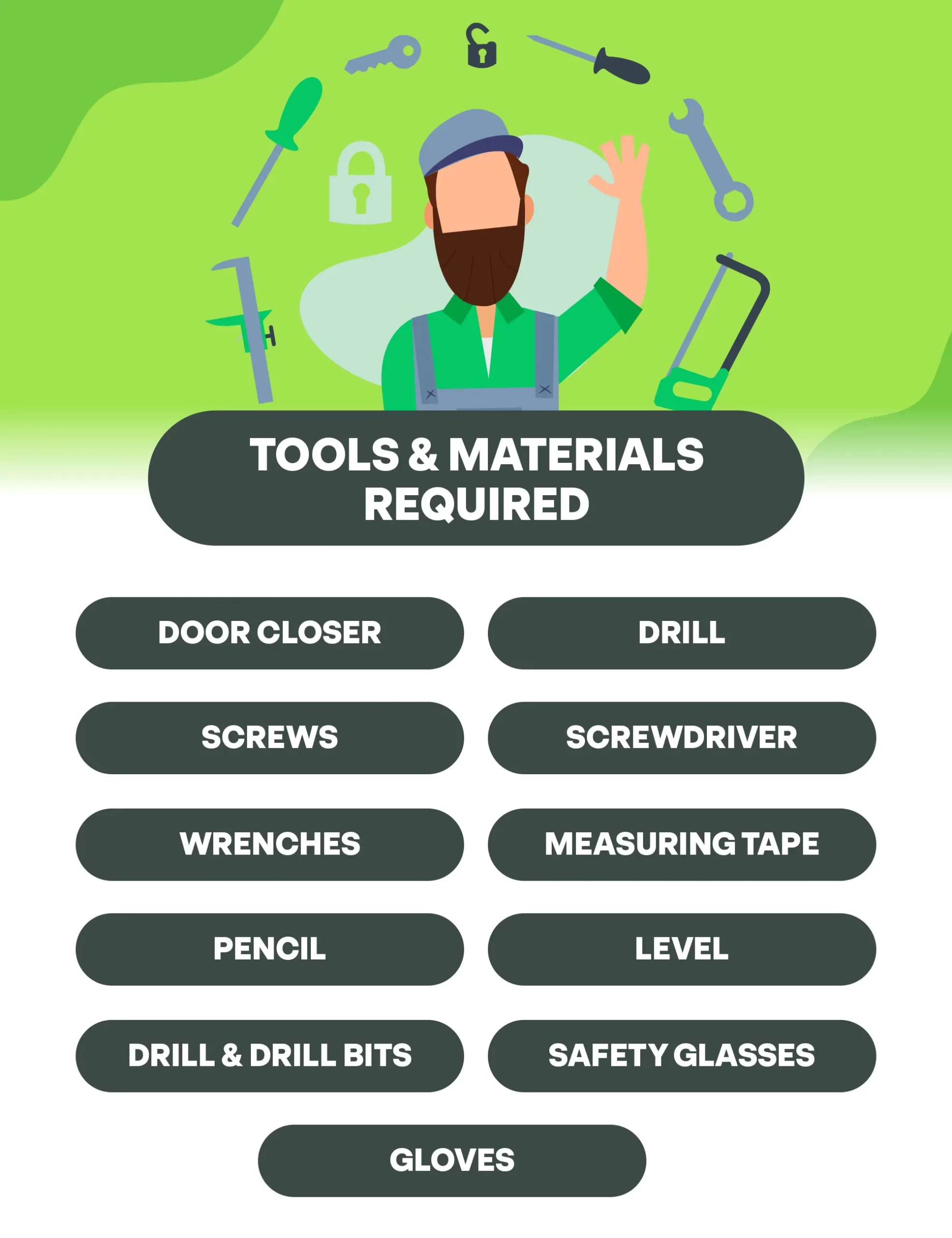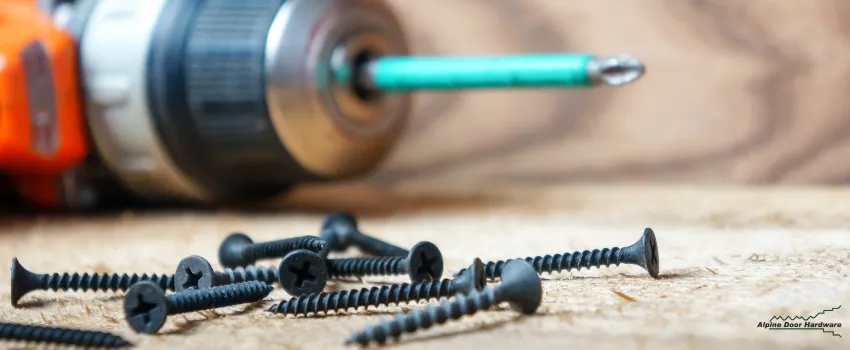 Before you begin the installation process, you must gather all the necessary tools and materials. Here's what you'll need:
Door Closer Installation Process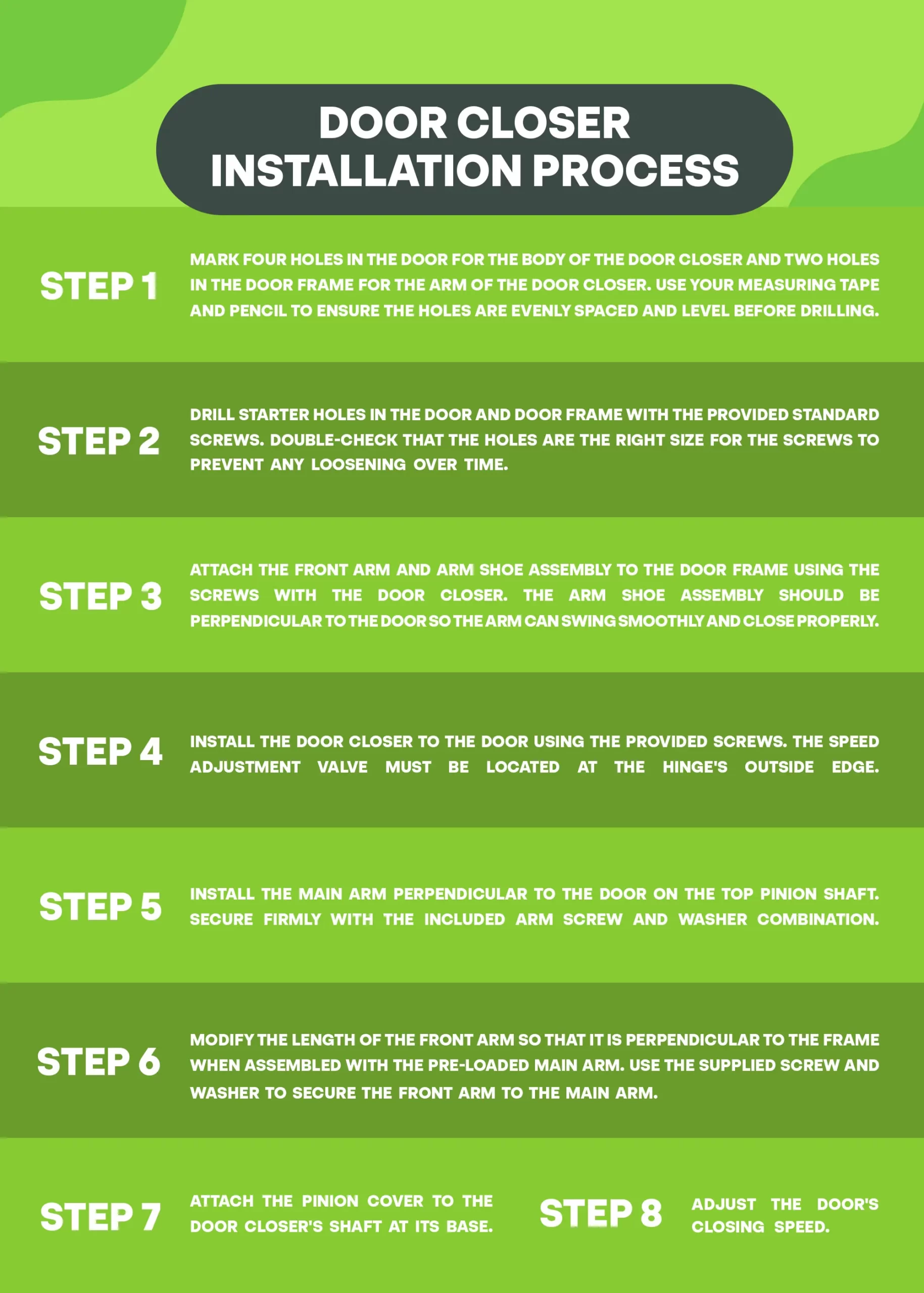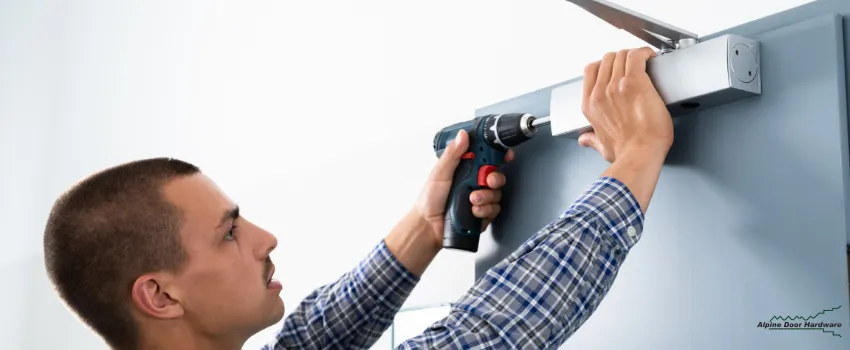 The best door closers are installed with proper technique and attention to detail. Here are the steps you should follow:
Step 1: Mark four holes in the door for the body of the door closer and two holes in the door frame for the arm of the door closer. Use your measuring tape and pencil to ensure the holes are evenly spaced and level before drilling.
Step 2: Drill starter holes in the door and door frame with the provided standard screws. Double-check that the holes are the right size for the screws to prevent any loosening over time.
Step 3: Attach the front arm and arm shoe assembly to the door frame using the screws with the door closer. The arm shoe assembly should be perpendicular to the door so the arm can swing smoothly and close properly.
Step 4: Install the door closer to the door using the provided screws. The speed adjustment valve must be located at the hinge's outside edge.
Step 5: Install the main arm perpendicular to the door on the top pinion shaft. Secure firmly with the included arm screw and washer combination.
Step 6: Modify the length of the front arm so that it is perpendicular to the frame when assembled with the pre-loaded main arm. Use the supplied screw and washer to secure the front arm to the main arm.
Step 7: Attach the pinion cover to the door closer's shaft at its base.
Step 8: Adjust the door's closing speed.
Troubleshooting Tips
If you're experiencing issues with your door closer installation, don't worry. Here are some troubleshooting tips to help you fix the problem.
1. Check for loose screws.
If your door closer is not functioning well, check to see if any of the screws have become loose. Tightening them may solve the issue.
2. Adjust the tension.
Some door closer types have adjustable tension that can affect their performance. If your door closer is not closing smoothly or slamming shut, check the tension settings and adjust them according to the manufacturer's instructions.
3. Verify the alignment.
If the door is not closing properly, check that the door and frame are correctly aligned. If not, adjust the frame as needed to ensure proper alignment.
Key Takeaway
Door closer installation is a straightforward and doable project you can do at home. By following our guide, you can improve your door's functionality while adding value to your home.
If you want to be on the safe side, you can also consult experts specializing in door hardware. They can help you select the right type of door closer to your needs and ensure it is installed professionally. Asking for their assistance will give you peace of mind and help prevent any potential safety hazards from improper installation.
Choose Alpine Door Hardware for quality door hardware.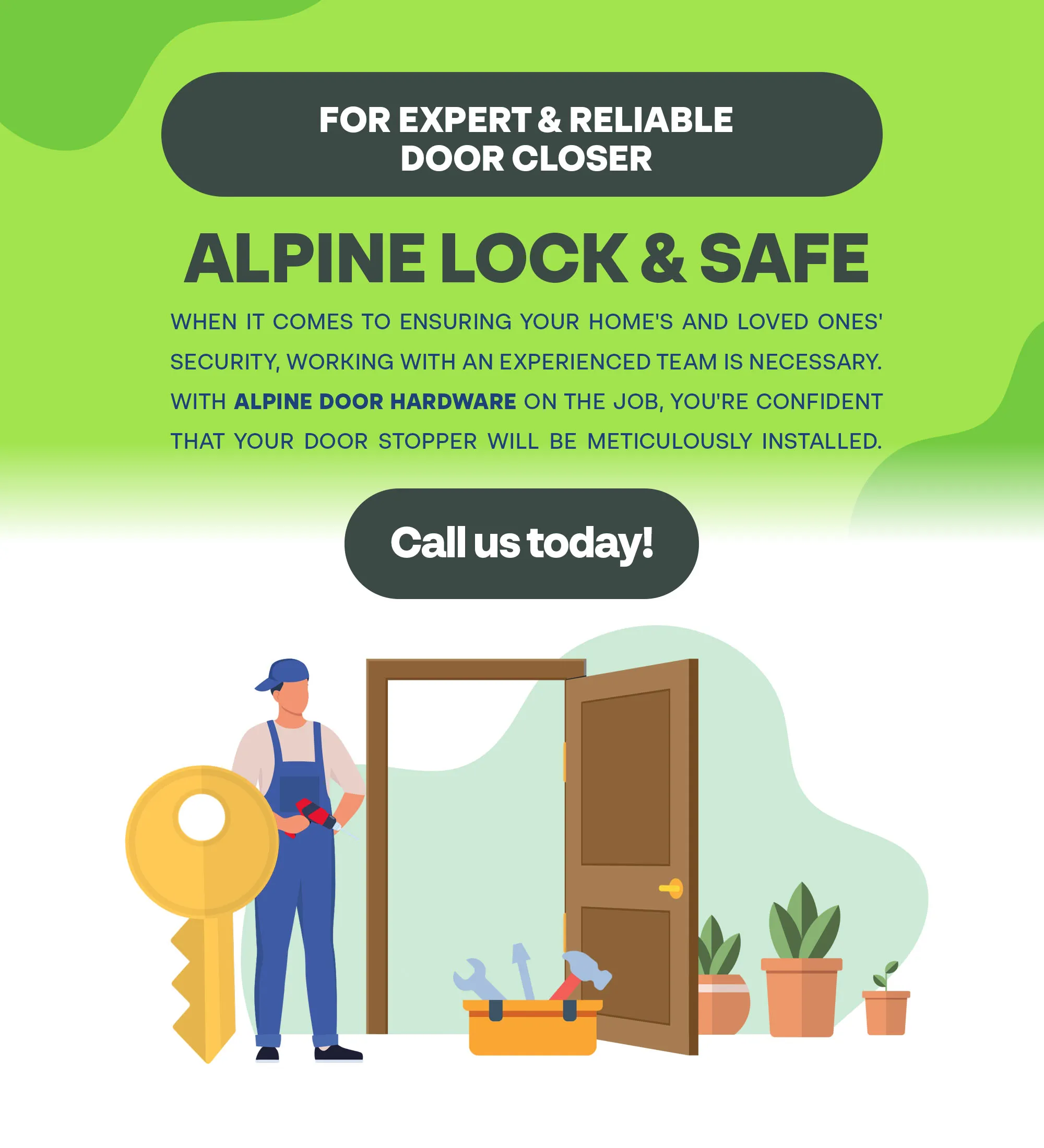 Your loved ones' safety and security should be your number one priority. Alpine Door Hardware provides first-rate Park City door hardware products you can use for all your improvement projects. Contact us today to schedule your door closer installation and experience the Alpine Door Hardware difference.